Woah. I just sort of slunk away in the night there. Sorry about that. Between holidays and various colds blogging hasn't been high on my list.
First catch up:
The beekeeper- Unfinished. After some construction changes I got plugging along and have 4.5 strips complete. I did buy my second lot of yarn, not because I ran but because I wanted it already. I was aiming for it to become a birthday present but that isn't going to happen either. At this point it'll either be a Mother's Day gift or a random whenever it gets done gift. :)
Surprise sweater- undone and actually frogged. After a gauge check went wrong I started frogging intending to make the next size up. Then I realized I had measured wrong and that my gauge was actaully spot on. Frogging 3 strands (sometimes single and sometimes doubled) was actually a huge pain in the backside. I have a clump of yarn tangled beyond recognition sitting in a drawer now. I have found a different pattern and will start that soon enough.
Now on to the FO's! I have 2. One is a pair of basic kids socks (in fact I think the pattern is called exactly that) and the other is quite possibly my most faovrite small person sweater in the universe.
Socks: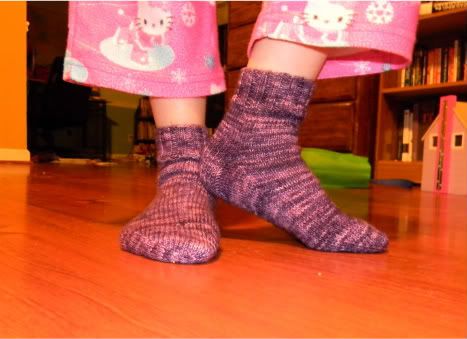 The yarn is Madeline Tosh but I cannot for the life of me remember the color. I did do these 2 at a time with magic loop and while I'm still not a lover of the technique, it did result in instant gratification.
Yoked Cardigan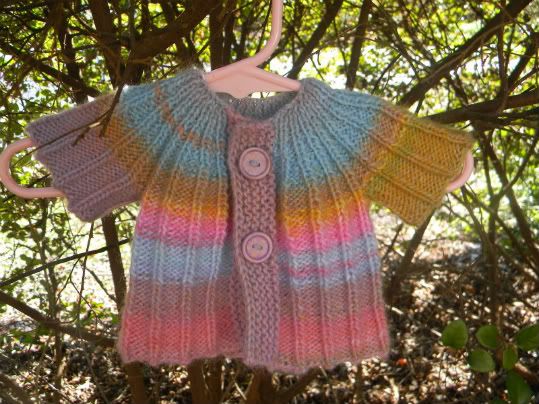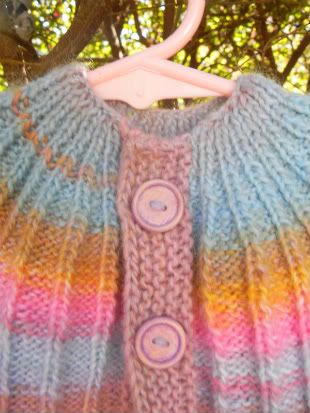 I love this little thing more than words can say. I had some
Lion Brand Amazing
that was intended to be for another project but was perfect colors for this. The color here is Pink Sands. I used 5's since the yarn is thinner than the pattern calls for. Since I have had bad luck with gauge as of late I double checked it after a couple inches and ended up restarting in the 2nd size (this is intended for a tiny newborn). It came out perfectly if I do say so myself. THe pattern is quick and easy and clearly written. It also goes up to adult sizes! There are more in the works. :)
I wanted to share the bind off I did. All knitters, at one point or another, are going to fight with a tight bind off. I attempted to do the bottom (this is a top down pattern) 3 times. The first 2 were with my standard stretchy bind off and the 3rd was with a sewn bind off. None of them were working. I didn't need the bottom to be elastic but I knew the arms and button band would do me in if I couldn't even get the bottom working. I googled "stretchy bind off" and the first 5 or so results were for only one. I had never heard of it so I clicked the first video link. It was for a project worked in the round and not applicable for what I needed (ribbing). The next video was though so I sat and watched Cat Bordhi for 6 minutes show me how to do this.
The results are amazing. The amount of stretch is ridiculous. It leaves a nice clean (and almost picot like) edge. It's easy. It's fast. Most importantly it really is stretchy.
Try it today!

Watch the whole video. She gives a handy tip for the last stitch and how to tack it down AND she shows just how much stretch you can get.