Friday, April 20
I know that teaser was a horrible placeholder but trust me. It was worth it. This shawl was...my Mount Everest. I had many starts (5) and my many moments of frustration were within that first part. I'm not an expert knitter. I don't claim to be. I can do lace but I don't. I do not hold my abilities for pattern reading on a pedestal waiting for the moment to brag about them. As far as knitting and patterns go I am rather ordinary I would say.
That said....I hated this pattern. At first. I should have taken a hint when reading the main page of it on Ravelry. The author has obviously had many complaints about the way it was written because right there, for all to see, is a mini rant of her own. What does she say? Basically, if you don't like it don't knit it. She comes off as very defensive. Based on her comments and the issues I had I know what was said to her and I see her reply as arrogant and rude. The hints/tips/suggestions were meant to help with the overall written pattern. The author wasn't down with that I guess. I was so flabbergasted at the main page (I hadn't even clicked the pattern yet) that I called someone and read it to them to see if maybe I was just being picky. They had the same reaction. I ignored that small red flag and decided to knit it anyway. After the 3rd or 4th restart I went back to the gallery. I had been through it a couple times before hoping to see what I was doing wrong. Obviously, the pattern worked because there are lots of them.
Maybe I am way more green when it comes to charts and how to knit them than I thought. I've done lace before though so I didn't think that was really the case. It was on this last wandering through other projects that I came across a chart. A chart so brilliantly laid out and with notes so perfect in wording that I was more than happy to restart it. There were stitch counts and clear directions. Repeated parts were in another color. It was clear. It was concise. It was what should have been in the original pattern. So much so that I have been tempted to write the author and suggest that they consider it. I doubt they will though. On the new chart it plainly says it is intended to supplement the pattern, not replace it. Once I printed it out though I did replace the pattern with it. I wouldn't use the original again if I were to make a second. I was so pleased with this chart that if others were to ask for the pattern I'd probably link to it only. I know that isn't fair to the author though.
I know it was a free pattern and that some think you (general you) shouldn't complain in that situation but the frustration and irritation over something as simple as wording and clear directions is...well frustrating and irritating. This isn't a difficult pattern. I wouldn't rate it as master level. I might do it as a light intermediate but it isn't difficult. The original pattern was just awkward and made it less than enjoyable to knit. Which is a shame because it's a beautiful shawl. I think it's going to be absolutely beautiful for the intended wedding.
Enough of my kvetching. I know you are only here for pictures. :) The yarn is Madeline Tosh sock in Smokey Orchid.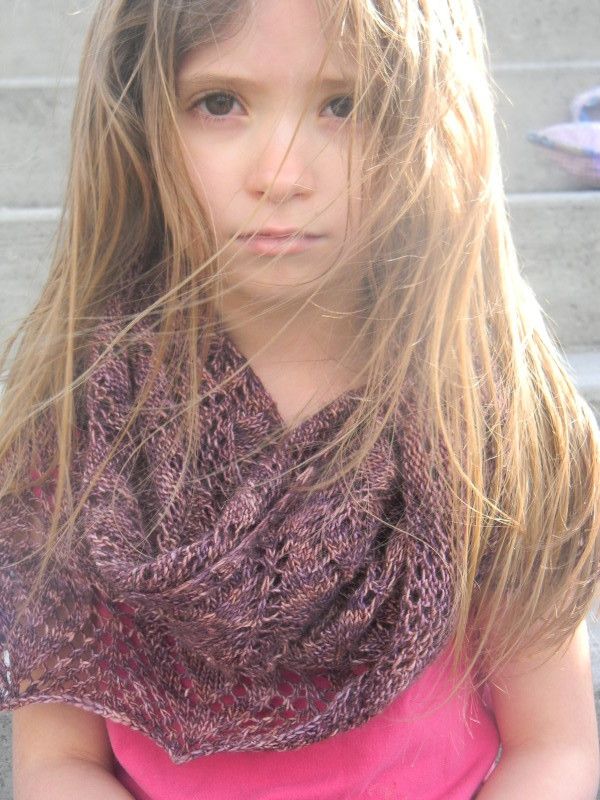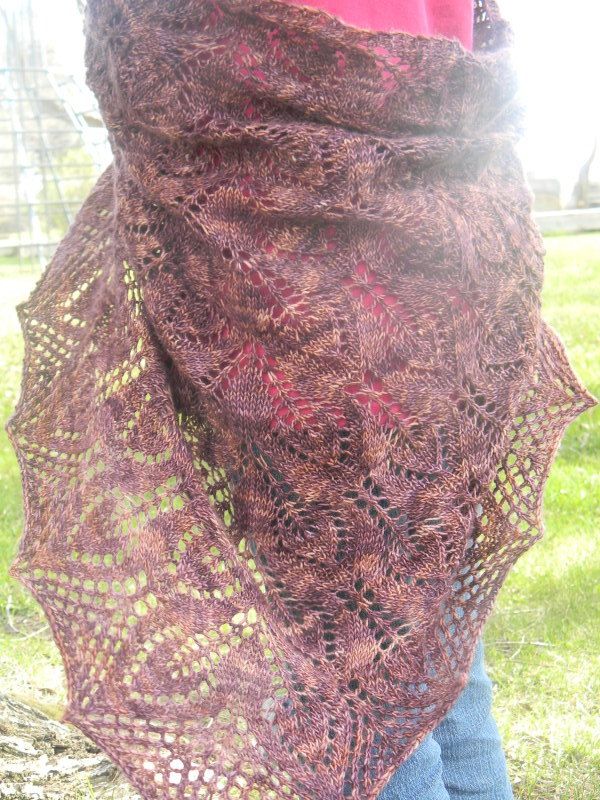 Posted by

Cassie
at 7:02 PM
No comments:

It's blocking so for now you can have a teaser of horrible picture quality. :)
Posted by

Cassie
at 4:42 PM
No comments: