***
Part 1 can be found here
***
This is going to be more technical. And short. :)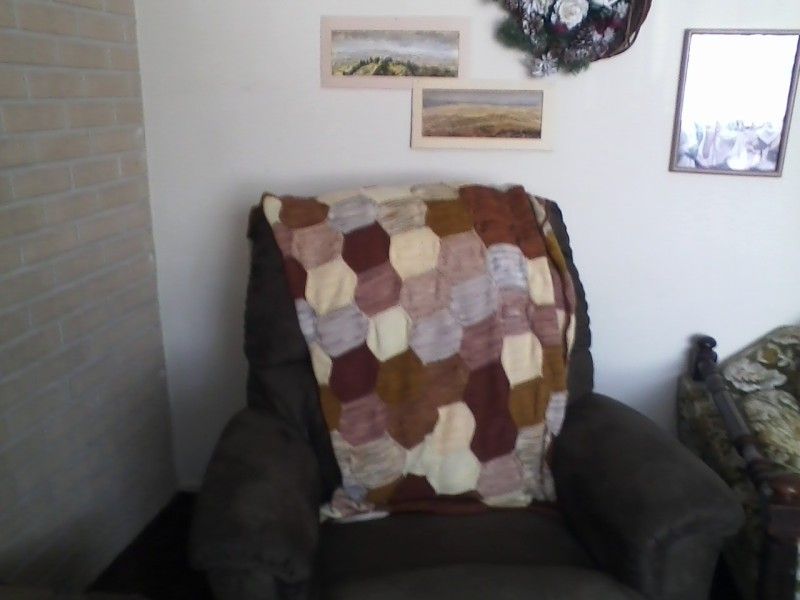 Pattern:
Bee Keeper Quilt
Yarn: 10 colors, 27 skeins total (30 purchased)
Lorna's Laces: Patina, MonkeyShines, The Bean, and Magnificent Mile (all Shepard Worsted)
Madeline Tosh Vintage: Ginger
Madeline Tosh dk: Dusk
Malabrigo: Butter, Rich Chocolate, and Applewood (all worsted)
Araucania Coliumo Solid: Color 24
Needles and Hooks: US 8 (knitting), 0 (crochet: seaming), and J (edge)
Modifcations: Hexagons were knit flat and in strips. Each hexagon was separated by a row of purl stitches. Each strip had 15 hexagons. 14 total strips were made (but only 13 were used). All hexagons started at 14 stitches and increased up to 28 except for those done in Araucania. Those were increased only to 26 stitches. Seaming was a basic single crochet seam (vs. ties at the corners). Entire blanket was done on bigger needles and with thicker yarns.
Total strip count: 13 strips out of 14
Total hexagon count: 195 (used. Including the 14th strip it was 210)
Total weight: 3 lbs
Total knitting time starting at the last restart: 7 weeks.
Total starts: 3 times
Final size: 60x65