I finally finished it! I am pretty pleased with myself (so much so I wore the single sock to bed last night...I don't wear socks to bed ever). I even had a small amount of yarn left!! I was right..each little ball is enough for an ankle sock for myself. I wasn't sure about the coloring of it all once knitted up but once it was on my foot I really like it. My grafting went perfectly (thanks to Knit Socks!) and I actually have the right length this time. I could probably add a few rounds to the length but as the fabric loosens up due to wear it really doesn't matter. This is such a perfect fit for my foot! Ok so here it is!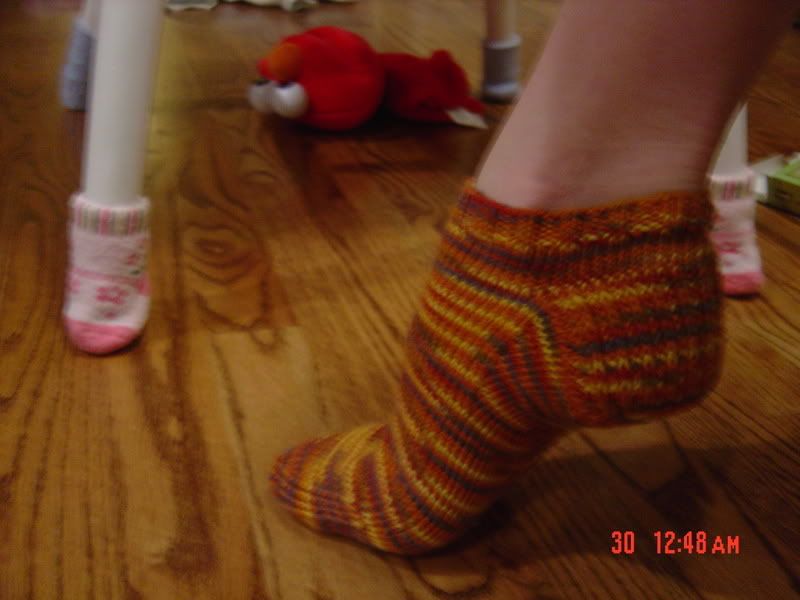 Needles:
Size 3 Clover Bamboo dpn's (4 of the 5)
Yarn:
Art Yarns Super Wash in unknown color. Color number on tag of skein is different than color noted on the website.
Pattern:
Top down generic pattern using the directions in The Knitters Handbook of Patterns for multiple gauges.
In other knitting news, I frogged the mystery WIP. I pulled it out the other day when there was a sudden onset of crappy cold weather. As I looked it over to remember where I was at pattern wise the yarn screamed at me to not continue on. I am having such a hard time using this yarn for something. It has yet to make up it's mind as to what it shall be.
I have started on a doll for my neice for Christmas and am pretty pleased with it so far. The only thing that bugs me ( seriously bugs me) is that every doll pattern I looked at (I couldn't find my Toys to Knit book) is knit flat with a million seams. Why!? I am done with the two legs and am almost done with the body...all knit on dpn's. I just don't get why they make it harder than it should be.
Oh and the best news? We have a freaking house!!! We finally gave up (a.k.a it finally dawned on Dh that I was indeed right this whole time) and went looking for one on our own. Today a friend took me out and about since DH had the car and we found a place. I looked at it, then DH and I looked at it and we decided to go for it. It's a perfect fit for us and the best part? There are closets with built in shelves. I may not get a knitting room but By Jove! I have a fantastic closet to line everything up in!!!