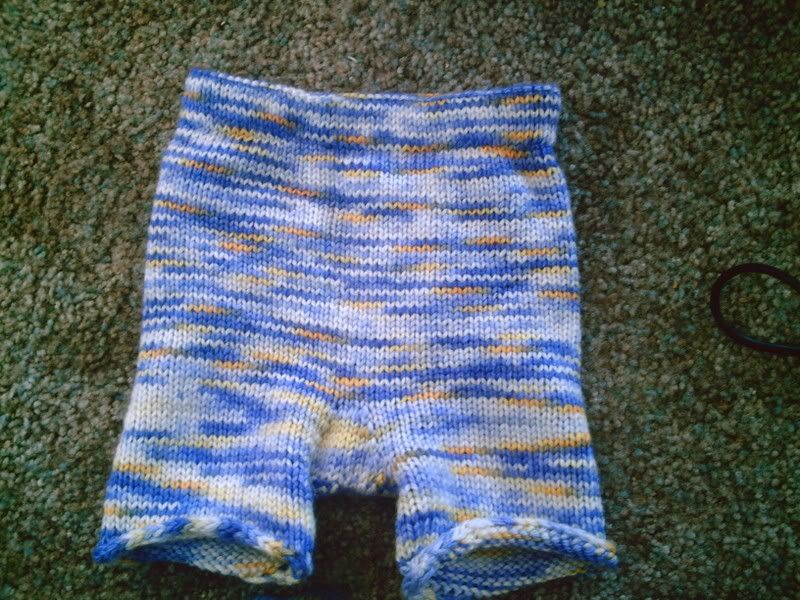 First up is the Adorably Ewe
longies
I got.
I-cord
bind off on the legs..a nice little roll to make it look finished but nothing obvious. Short rows on the butt and an elastic waistband. I am loving the waistband. I have put off trying this particular one for some reason...not sure why. I have been debating how to do the waist on the winter
longies
I plan on making the oldest wee one and this is it! Since she's potty trained it will make it easier for her to get them up and down on her own, it has a nice finished look to them, and I don't have to worry about it not fitting/growing with her. I love these
longies
! Nice and soft. They are big even though they are newborn size (they fit the 2 year old) but I don't care. That just means we can use them longer. :) I would totally buy from her and am glad I have a friend addicted to wool (she won them....her daughter is in mediums
hehehe
)!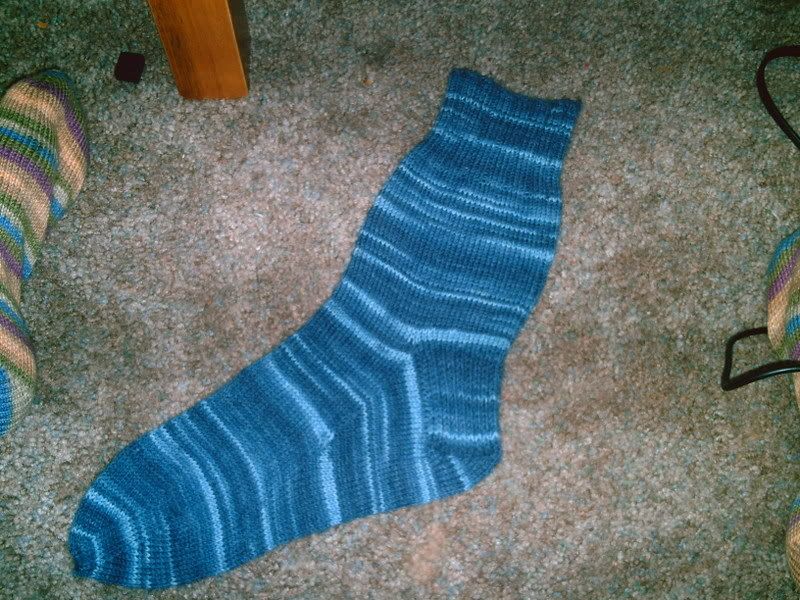 Next is the husband's sock. I finished the first one! It only took me about a week to do but I blame that on having a baby and not on my slow knitting. :) It actually wasn't that bad. I thought for sure I would get really bored with it, especially since it's so long but I didn't. I altered some things (of course!). The stitches count is higher (75 for the cuff and decreased to 73 for the heel), the heel is different (it's the basic one from The Knitters Handy Book of Patterns), the gusset is longer (the pattern has you decrease down to 8 less than your cast on number so I kept with that....it ended up being a LOT of gusset decreases), and then an extra decrease in the toe portion. I had to redo the two twice actually. the first time I did it I had 22 stitches per needle. I just went with the flow and did the toe as written without rearranging stitches after my first decrease round. I quickly ran out of stitches on needle 2 while having too many on needles 1 and 3. So I frogged back, decreased my first round, and then rearranged stitches according to the pattern. MUCH nicer! I had the husband try it on last night and he said it was too short...his toes were curling! I did not want to redo the toe again so I decided to block it (which may be a first time for me :) ). He only needed about another 1/4 inch so undoing the 2 1/4 inches that the toe alone makes up was not an option for me. I wet blocked it...got it wet, stretched it out, and pinned it down last night. I had him try it on again at lunch and what do you know! It worked! So glad I went that route. He claims I am a knitting cheater. I claim that I am a knitting pattern follower since the pattern says to block it. :)
Now this. This is something special. Two ladies that are part of a client of ours sent us a gift box as a congrats on the new baby. This was one of the items. A handknit jacket. The walking wee one loves it! The left cuff is unrolled to show the length. it fits her perfectly! The hood attachment and construction is what gets me. There is a drawstring caseing on it! It's attached via a section of ribbing. I have been looking at a lot of hoodies/hooded jackets for her the last little while since it's starting to get chilly and she'll need something. I have yet to see a pattern design that has either of those qualities. Maybe it's not so unique but man it's neat to see! I wasn't too sure on it when I pulled it out. It's not my colors and the jacket itself is rather bulky/heavy. It also screams of an older generation/style. My opinion does not matter though as it was quickly yanked from my hands by a toddler. So I put it on (her not me) and wow! Does wearing an item change the way it looks! It's looks so cute on! Now I don't have to worry about whipping something out as quickly as I was planning. She has something to wear for now. I don't know how long it will fit her but I have a feeling she will keep wearing it after it no longer does. She's a bit determined in that regard. :)