I was just busy...you know..off having a baby and all. :)
I do have an FO to show you despite that busy little event!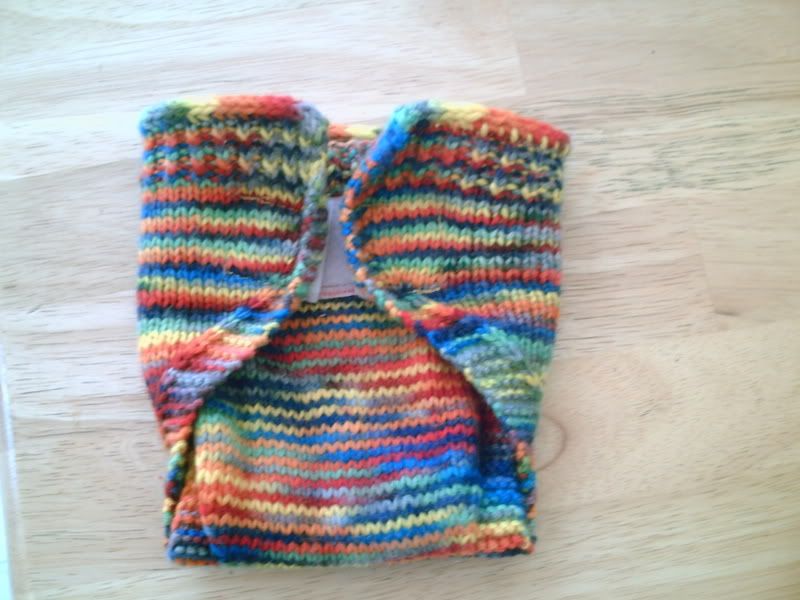 Stats:
WHW wrap
Size newborn
BFL yarn (unknown colorway and supplier...this was part of my Knitty Board sock swap package)
Icord bind off
The new one is tiny....a little more than 6 pounds so everything I have made it a tad large on her. I expected the same of my Curly Purly soaker. Maybe it's just me and the soaker knowing I was less than pleased with it (at first...I totally loved it after I fixed the cuffs) but it does not fit. The oh so fabulous waistband that made me finally break down and do it (because honestly you can only read about something that is oh so fabulous for so long) is oh so not fabulous. At least for us. I put it on her (over a sposie no less! I was eager to try it out but her cord was not off yet so we were sticking to sposies since her cloth sits high...I digress) and my lord did she scream! I yanked it off as fast as I could and those 2 minutes it was on left indents in her stomach. Maybe she has a mongo buddah belly? Who knows but it did not go over well. And even though the pleats are great the actual cast on edge does not stretch to the same degree the rest of it does (and I knew that would be the case) and is kind of a barrier in that regard. Why do you care? Well that meant I was one cover short. I needed something pretty quick so I whipped up the wrap in a matter of a couple days. I'm glad I only made the one CP soaker. I am hoping it was just a defective cast on edge. Either way, I won't be making more and have plans to frog the one and reuse the yarn for another wrap. The day I finished it I also got a very sweet pair of Adorable Ewe newborn longies in the mail as a surprise. They are huge on her! My potty trained 2 year old can wear them. Granted they look like biking shorts on her but they fit none the less. :)
Shockingly enough I have had the same amount of knitting time as I did before having another baby. This whole sleep all day thing newborns do tends to allow for that. :) That there is a sock. For the husband. Yes I know...even more shocking than the fact that I am still knitting. I'm using the Gentleman's Plain Winter Sock pattern from Knitting Vintage Socks with a few modifications. The husband has some nice shaply legs so I added 5 stitches to my cast on. I also did less ribbing and less of the stockinette portion. The pattern ends up having a 9 inch leg! I think this one is only about 7 inches. I had him try it on last night when I got ready to do the heel (I didn't want to get the heel done and find out it didn't fit...that was harder to bear than say knitting 7 inches and then not having it fit...call me crazy) and it fits great! I decreased down to 73 stitches for the heel and am doing the basic heel from The Knitters Handy Book of Patterns. I tried to tweak the patterns heel (Dutch heel) to fit with the number of stitches I had but it wasn't working. I was getting tired of fiddling with it and no one had answered a post I made on MDC. I am just about done with the heel flap and then I'll turn it. Then comes the boring part.....many inches of stockinette for a long big man foot. Oh the joy. I am surprised at how quickly they are going (well this one at least). I plan on having them done for our anniversary and if I can manage to get by the dreaded SSS they should be done long before. He's excited. He could barely contain his glee last night as he tried it on. I wish I could have kept them a surprise but there was no way I was going to do a whole pair of socks for this size foot and not know if it was going to fit. All future pairs can be a surprise.