It really is. I started a sock the other day (not with the yarn throw up pictured before) with some FANTASTIC birthday yarn. Regia Silk sock yarn to be exact. Very nice yarn. The colors are oh so purtty and the yarn is oh so soft and it is just nice. I was surprised to see it stripe since for some reason I didn't think it was going to. Don't ask me why I thought, it was very obvious it would due to the long strips of color in the yarn. It also is darker in the ball than in the skein and darker knit than in the ball. I am so happy with it, it's silly actually. It just makes me smile to see it and feel it. I used Wendy's toe up pattern for a sportweight sock (yes Regia is fingering weight but it all worked out very well) with a gusset. I love me a good gusset and heel flap and that pattern satisified that. I do want to get a textured heel flap and I know Wendy has one for that. It happens to be her fingering weight toe up sock. I decided against it though because it used short rows in the heel and I'm just not a short row fan.
There is no mate to it yet but only because I need to finish up other things real fast. I have a soaker about half way finished I need to finish (it's part of a trade) and then I need to start one more (same trade). I think though that being so eager to have a mated pair I'll finish them off pretty fast. I managed to whip out this sock in 2-2.5 days. I was going to do a pattern on the top of the sock but opted for a plain ol' stockinette one when I saw how nice it was looking that way. Very happy I went that route. I think a pattern would have taken away from the overall look of the yarn. And it fits perfectly!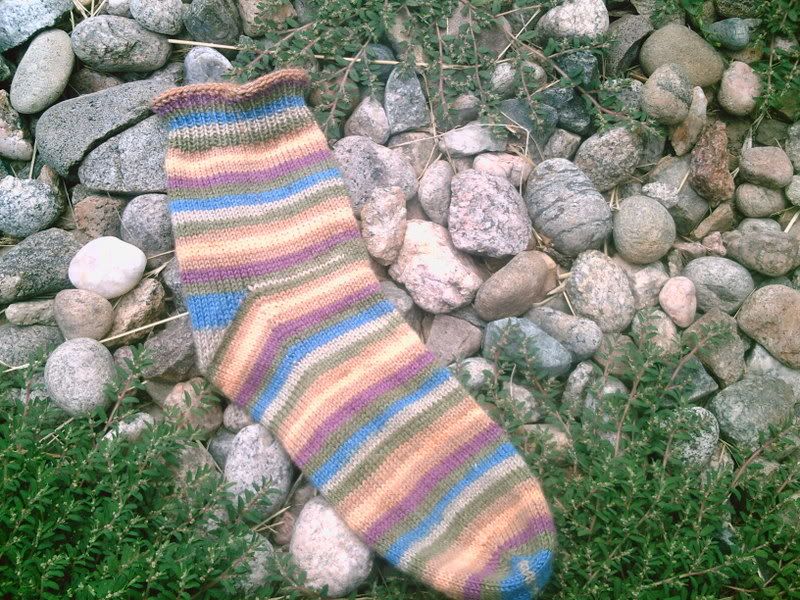 The colors are pretty accurate here despite having a hard time with the pictures. They are a tad darker in real life but nothing major. Oh and I used my standard magic cast on as opposed to the one in the pattern.