There is something to say about motivation. I cast off my lovely sock yesterday and set it aside and told myself, "DO NOT start that other sock until you finish the half done soaker sitting on the floor next to your foot." It wasn't quite half done. I was doing a large Curly Purly soaker and was about 5 inches into it. I needed to get to 6.5 before starting leg decreases so I was a little less than half but close enough. I wasn't sure I was going to have enough yarn. I have never done a large in anything so I wasn't sure I had enough yarn. I even had it weighed!! I was very nervous...I thought about doing a stripe of the solid I used for the waist to stretch the yarn a bit but decided to just plug along and get it done. I finished the soaker less than 12 hours after finishing my sock! The mom is worried about havinga soaker that will cooperate with chunky thighs so I sent her the pics of it so far and am just waiting on her to see if she still wants cuffs. I know the free Tiny Birds soaker pattern mentions taht adding a cuff makes leg openings larger and the legs on the CP are already 12 inches so I told her that and am just waiting on her reply. I like it without cuffs (which is saying a lot for me) but have no problem adding them.
There is the front. I'm very pleased with how it all turned out.
And the back.
Stats:
Size 5, 6, and 8 needles
Waist is Cascade 220
Body is LTK Farm Yarn in the Elijah colorway
Size large
2 sets of short rows
p2tog instead of ssp for leg decreases
I have been dying to use this yarn forever but not because it's a "me" yarn. About a year or so ago I was going to do a trade with a mom who bought the yarn and had it shipped to me. We both thought one skein would be enough for what she wanted but when it got to me we noticed it wasn't going to be. Instead of wanting it back she told me to keep it and use it for whatever I wanted! I have tried to use it for us a couple times but it never felt right so in my closet it has sat. I showed it to the intended mama and she loved it. I hope she likes how it looks knitted. I am pretty pleased with it all.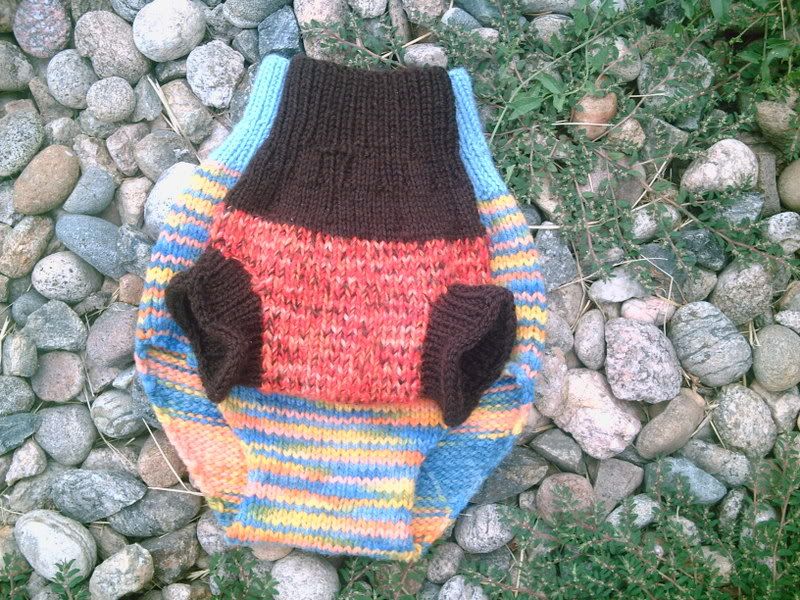 How's that for a size comparison!? That's my newborn CP soaker sitting on top. I knew the large was bigger but all by itself it doesn't seem that much bigger.