Awhile back, close to 3ish years ago, I bought a bunch of fiber off Etsy. Some of it got
spun
super
fast
but one sat. Unloved. Untouched. It was Coi.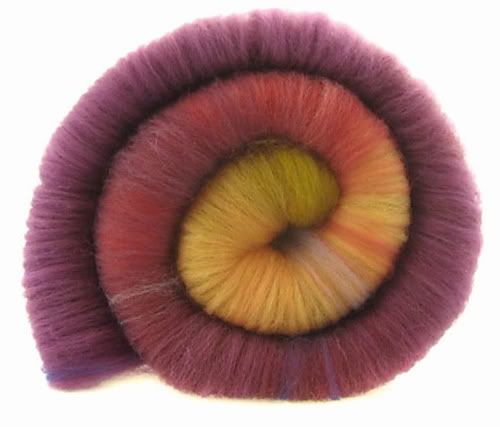 As you can see it was gorgeous. In person, it was even better but the colors are hard. The changes are on the width and I know when I bought them, I thought they were on the length. It was gorgeous but I didn't know what to do with it.
Fast forward to 2 nights ago. The youngest has a birthday coming up and I'm in the process of making her a doll. Dolls need hair. Hair is usually lovely yarn. I had nothing in my stash that was worthy. Out of the corner of my eye I saw Coi and knew it was meant to be. I dusted off the wheel (it's been a year since I last spun!) and got to working.
In the end I got 2 large skeins (unsure of yardage) and 2 mini skeins. One mini isn't a real one since it was more an issue of running out of bobbin room. I ended up plying a lavender thread into it as well (which you can see here...I swear the spinning isn't as sloppy as it looks!).
In the end, having a mini skein of just one color (one single was longer) worked out in my favor. I have enough there to do the scalp portion of hair without the added fussiness of COLOR! to distract the eye. All the multi colored parts will be able to stand on their own against a solid back.
I don't know that I love the yarn. I expected it to be brighter. The green and peach tones in the center were kind of murky once spun which was a bummer. I do like (just not love) it though and it'll rock as doll hair I think. It's a tad thicker than I normally spin but I was hoping to get as much texture as possible. Between that and the thread I think it worked out in my favor.
Why did I let myself go long without spinning? It was so nice to feel the pull of the fiber through my fingers as I peddled. My wheel needed a bit of love to get it ready (moving wasn't easy on it) but once it was in top top shape it was a dream. I'm glad I pulled it out.