This hat has been waiting for it's day in the spotlight for about a year now. I knit this last year, intending to gift it, and due to random life occurances I never had the chance. I don't remember who it was knit for now! I do know that I ended up making it a bit longer than the pattern (
Ear Warmer Cap
) says too. I also opted for no texture on it.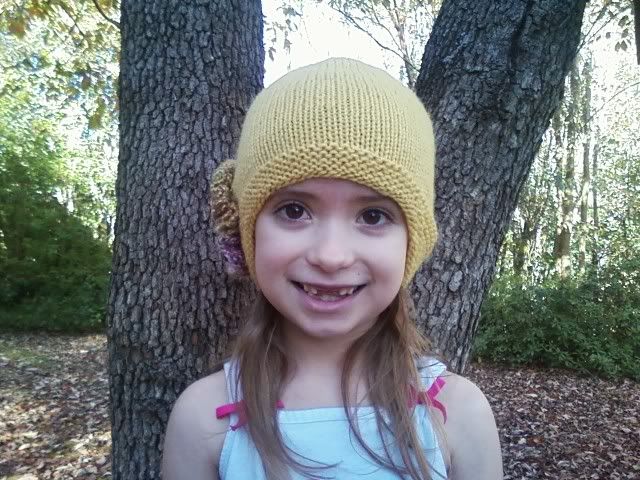 The body of the hat is Knit Picks Wool of The Andes. I don't remember the color name but it reminds of sweet cream butter. It's a gorgeous yellow without being neon or Crayola hued.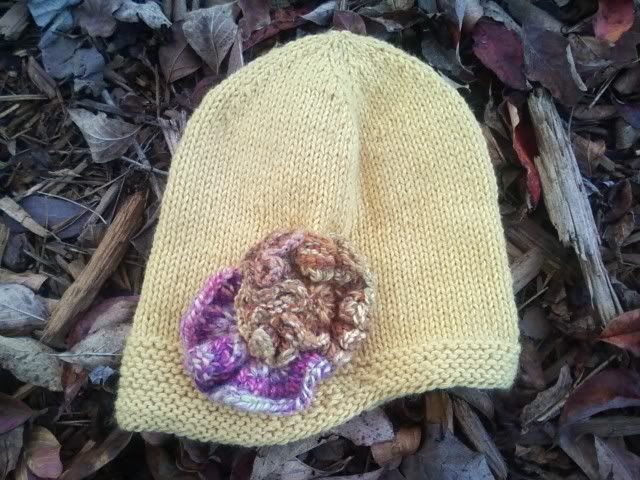 The flower and ruffled part are my favorite thing about this hat. For longtime readers of this blog you might remember seeing the
yarns before
. Both handspuns were used to make baby items for my last kiddo. Each skein had just enough leftover that I wanted to keep it (in the case of Tumble it was quite a bit). I think both of them complimented the yellow of the hat perfectly.
It was geared to fit a young child (my oldest here is 6) but has enough length and stretch that I can easily wear this. The flowers are on their nice and snug (and were a pain to knit! that's a lot of ruffle!) and help make the hat feel more sturdy. Wool of the Andes isn't the thickest of yarns so I actually really appreciate that fact. I love the hat. I know someone else will too (the oldest has declared it not for her). Eventually this hat will get some lovin'. In the meantime, it'll sit on my finished items shelf and make me happy everytime I see it. What more could I ask for?