Not off the list but at least they are off the needles. :)

First up is a play crown. The other day I was reading through my many blogs and saw mention of Knitting Daily so I went and checked it out and saw patterns I had forgotten about. One of which was this crown. I knew the wee lass would love it and I was right. :)


MODS/STATS:

size 8 needles (the pattern calls for 3's and 4's! )
recycled wool hand-dyed by me with Koolaid
i-cord bind off
When it came time to connect the points (I did the 1 large and 2 small as recommended for the girl version) and cast on the remaining stitches for the band
I used this calculator
to get an evenly spaced increase set up. The pattern says to do a knitted cast on for the first side and then the backward loop cast on for the second. I didn't like either of them especially since my yarn is soooo thick. So I joined the round and then increased. I also did fewer band rounds than the pattern said to. I probably should have done a couple more since it seems a tad short and the points don't stick up when she has it on. It's slightly snug but only because I chose the smallest band. it fits great though and she can get it on and off easily. I also did a small section of the band in stockinette. I like the look a lot. I do think I should have done it using the numbers for the girls band so that she could use it more. It went sooo fast though (a couple hours) that if the tot wants another it wouldn't be a big deal to do it again.
Up next is my version of Knitty. It was originally just some bedtime knitting. The husband has been gone for 10 days and as a result neither me or the gal have really slept very well. So once bedtime hit we'd turn on a movie in the bedroom and while she watched it and mellowed out for the evening I'd knit. Yesterday I decided she NEEDED to wear it today to the playgroup. So I started hauling ass and finished it up this morning at 2:36 (I know the exact time since I was telling myself knit solidly for x amount of minutes before checking my progess on my bind off) and when I was done weaving in ends it was 2:45. This morning I reinforced the ties and snipped ends and it was done! Definitely worth the lack of sleep finishing it up. :)
Stats:
Tatamy Tweed in Oatmeal and Lime (cotton/acrylic blend)
Size 2 (the smallest listed)
Mods:
Size 5 needles (called for 6)
Worked in the round
Ruffle is per the directions in my Picky Pants patternRuffle is attached via picked up stitches. I changed to my second color, did a purl round, knit one round, and then continued per the pattern (my decreases are different to take into account the 4 stitches minused when converted). Once everything was bound off I piccked up stitches using my purl row as my marker. I screwed up and was knitting the wrong direction so ended up with another row of purl. I turned around and knit 3 rounds before beginning the ruffle.Bind off is I-Cord bind off (it took me 2.5 hours!)Straps are crochet ties to allow for soem growth and to keep the fit. The chest on this sat really low when I used the straps recommended in the pattern. I think the girlie is just short torsoed so even though everything is the right length it's still long on her. Plus it helps keep her clothes on if she can't untie it. :)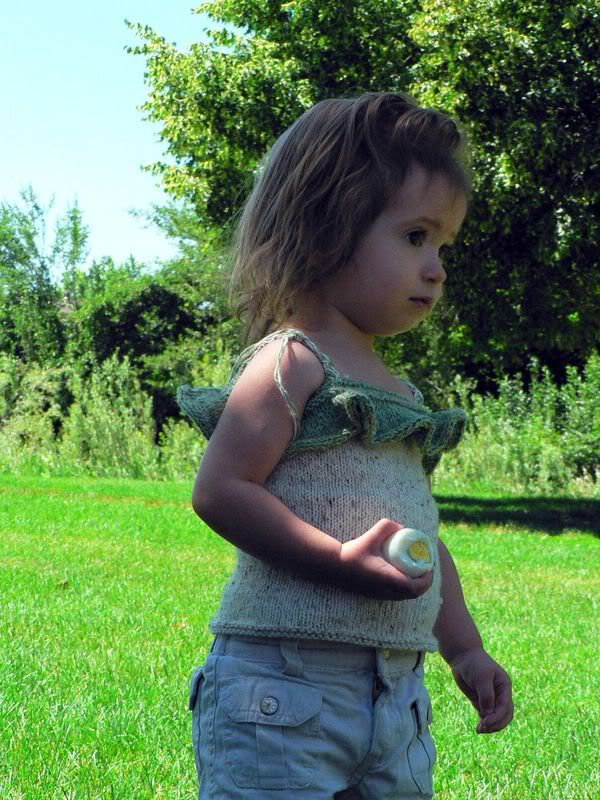 I do have a more frontal shot but the bottom started curling. Here you can see more of the details though they aren't as up close as the ones on my camera. Vista is no longer compatible with my camera and until I can retrieve the pictures on there this is what you get. :) Once I get them off though I will post since I did get one of the top portion. I am very much in love with this and very very proud of it. My sister has asked for one for her wee little gal. :)