Yeah, I know. A miracle in and of itself. :)

The first is a soap sack I made to match the balband washrag for my sister. Someone on MDC posted a free link to one and I actally have made two. The first one I followed the directions and after seaming decided it sucked. The pattern has dropped stitches which is fine and dandy but seeing as they are an entire row seaming looks sloppy. The pattern says to seam starting a stitch in from the edge but due to the nature of dropped stitches it just pulls funky. Disappointed in it I quickly cast on for the second. They don't take long at all and were great for using up the little bit of yarn leftover from the skein. The second one I tweaked a tad. Ok maybe more than a tad. I used all the numbers for the pattern and did it in the round. Each side (when done flat) was 15 stitches so I cast on my 30 and off I went. I did use some solid red to add some contrast. The first one I didn't use any red and it looked....off. This is where I started tweaing. The pattern said to knit 4 rows stockinette, the set up row for the dropped stitches, a purl (or knit since it was in the round) row, and then do it all over again. The flat version I ended up with 6 sections of the dropped stitches. While it didn't look bad I wanted something more solid looking. So in my tweaked version I did 8 rows of stockinette between the first and second set of dropped stitches and only 6 after the second set. I do think I should have gone for one more since only two sets look off but all in all it's cute. My sister likes it. I frogged the first one and am redoing it. Once it's all done and ends are woven in I just need to add drawstrings and off they go! I am hoping I will have a tiny bit of the original yarn to make the drawstrings with since I will be using the solid red on this one as well. I doubt it but it would be nice.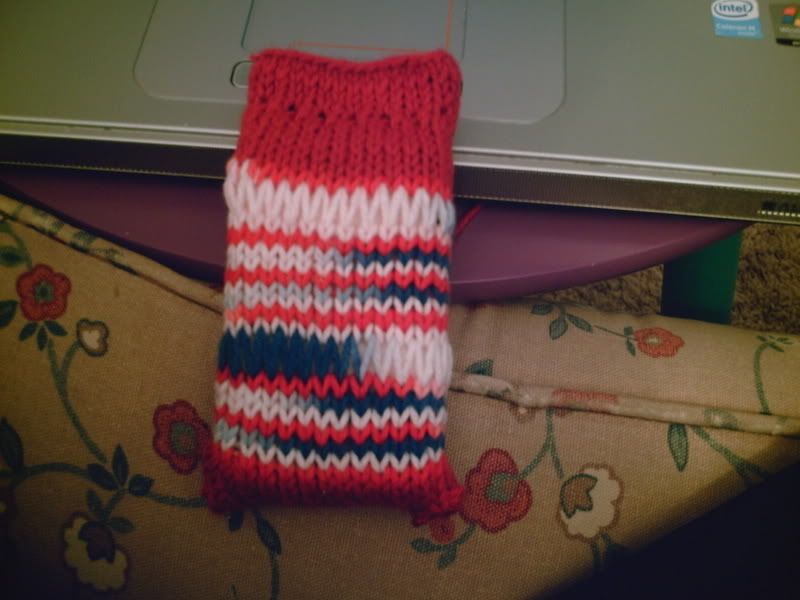 It's funny how changing your stitch count and stitch pattern results in a different look for the yarn. This is not nearly as patriotic as the washrag which makes me happy. Not that it matters. :)
The second FO is my first every Curly Purly soaker. Not sure I like the pattern. It's written as if parts of a conversation are missing...you know how you feel lost coming into a conversation and while you can pick up whats going on all those details from the beginning would make it less vauge? That's what this was like for me. Add in that I have never done a soaker and I had a hard time. I frogged the back three times before getting it right and the front ended up being WAY too long despite following directions. Luckily between the brain power of a friend and myself we were able to figure it out and get things squared away. It still looks crazy insanely small to me but when i compared it to my Picky Pants that are newborn sized as well it all matches up. I asked a gal I know to bring hers to the next playgroup though so I can compare. The friend who helped me last night (I started this days ago but she was unable to come over and help me out until tonight so it sat until late yesterday evening) couldn't remember what hers looked like at various points during the knitting of one she did so it was a big guessing game. I think we got it though.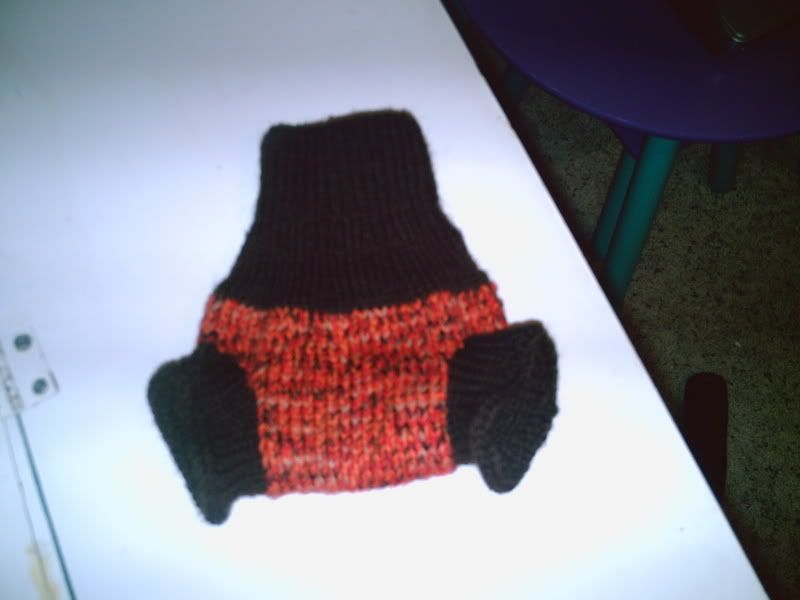 This picture does not do it justice. Looks very uneven for some reason. I used 5's, 6's, and 8's. The solid is dark brown Cascade 220 and the body is Classic Elite Yarns Beatrice in color 3253. I love this yarn. The wee one has a pilot cap in the same combo. Nice and thick even if it is spun poorly/loosely. Newborn size with 1x1 ribbing on size 5's for the cuffs with an I-cord bind off/finish. I think I'll make more but am unsure at this point. I like the soaker and can't wait to see what it looks like a real person but I'm a bit put off at the trouble I had making it. The pattern itself is not hard, I think it had more to do with my lack of soaker making. Pants and shorts are easier on my brain for some reason. :)
And because I needed to see how it fit here it is being modeled. :) The doll has a pull tail that activates a music unit in his gut. It has some junk in its trunk and it seems to fit fine which is a relief. But dolls are built different than humans so we shall see. :)
I do wish I had started the bodyyarn sooner though. I wasn't sure how much the pattern would use and since the yarn is thick but the ball is small I was unsure of how much I actually had. I like the solids of my wasitbands longer to begin with it but it's a slight dissapointment that I don't have more of the lovely body yarn to show off.