It's funny how changing up one or two details in a pattern can completely change the final look of it.
When I had done my curly purly soaker I had done as the pattern suggested and did about an inch of 1x1 ribbing for the cuffs. While I liked it overall it wasn't one of my knits that I was excited to show off. There was something missing that just wasn't me. I had no idea what it was. After I finished up the last two (the larges) I realized it was my cuff choice and I decided to change them out. Up until last night though I never did it. Not because it was difficult but mostly because I'm lazy. :) I am so caught up on everything cleanign and knitting wise that I have nothing to do. The only reason I want to do something is because I feel like I should. I'm so not used to having something that needs to be done that I can't fathom just going with the flow and picking something up when it strikes me. So last night as I lamented this to a friend I decided to fix the cuffs. I frogged the ribbing and did my standard garter ridge and icord cuff. Oh how I love this little soaker! Even the husband commented on how much better it looked. It's crisper looking (for lack of a better term) and appears finished. Not sure why but the original version looked like it was missing something. I think there was just too much brown (I did more on the waist than I wanted remember). In the end its the exact same amount of yarn since I jsut used what was there but 4 garter ridges look less imposing than 10 rows of ribbing you know? I love it now and am actually tempted to make another. We'll see.
I finished up a sock the other day but it's not going to stay in sock form for very long. I was using the fantastically lovely
Swirl
Sock and just used up a skein of Lion Brand Magic Stripes (only half a skein a sock though) in my stash. I have no problem with this yarn. It was my first official skein of sock yarn even. It just doesn't make for a good sock. The yarn is dry and scratchy and doesn't seem to want to soften up. It makes perfect toys though so it's goign to get frogged and made into something else...I'm thinking the Nautie toy from Knitty. I know it's not worsted like the pattern calls for but I rarely follow directions so who cares? :) Not only is the yarn icky to the feel but it reminds me of a clown. I don't want to think "clown" when I look down at my feet.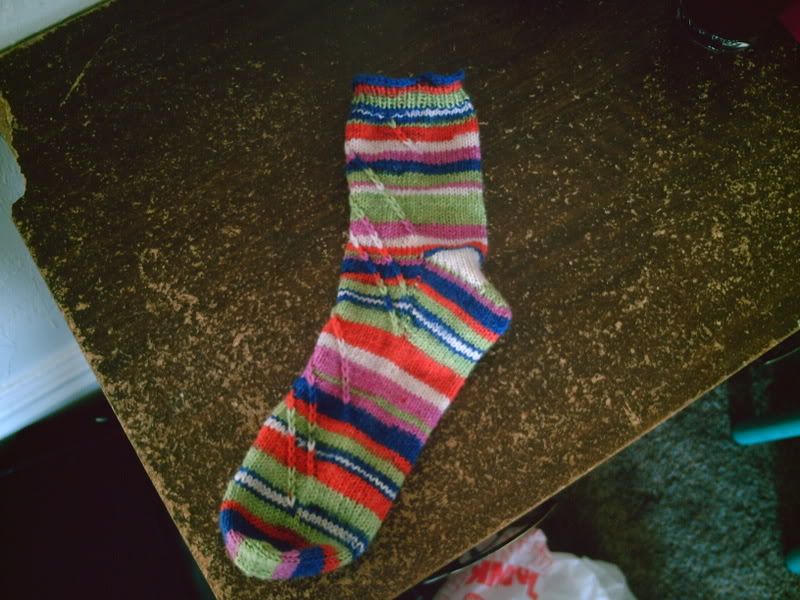 So there it is. I do like...I just wish it didn't suck as footwear. I used a thinner yarn, smaller needles, and only did the swirl on the front of the sock (the pattern carries it around the leg). I also did a ribbed cuff with crochet bind off (as opposed to the picot one in the pattern). I love the pattern though and am making a real pair. I found some needles I thought I lost and now I can do it in the right size needle and weight of yarn! The husband has been complaining about his lack of hand knit socks so I suppose he should get a pair. I do have four skeins of sock yarn here that were bought with him in mind. I suppose I should use them. Too bad he won't wear tube socks!