Despite my best intentions for a hand knit holiday very little got finished. The starfish still needs 2 panels and seaming and stuffing. The doll and clothing has yet to be finsihed period! I frogged a leg of my own pattern to start the actual pattern from the Toys to Knit book and lost steam. My mother in laws socks got bumped to being birthday socks. My scarf never made it out of the closet and the wand for DSS got finished but frogged. The hat never got started.
Yeah. I suck. The only things that got finished were the turtle for my nephew and a tarot card bag made on the spur one night for the husband. I did finish the wraps for the triplet mom by washing them, finally sewing on velcro, and are wrapped all pretty like waiting to be mailed. Oh yeah. I need to lanolize them. Still.
Yeah. I suck. :)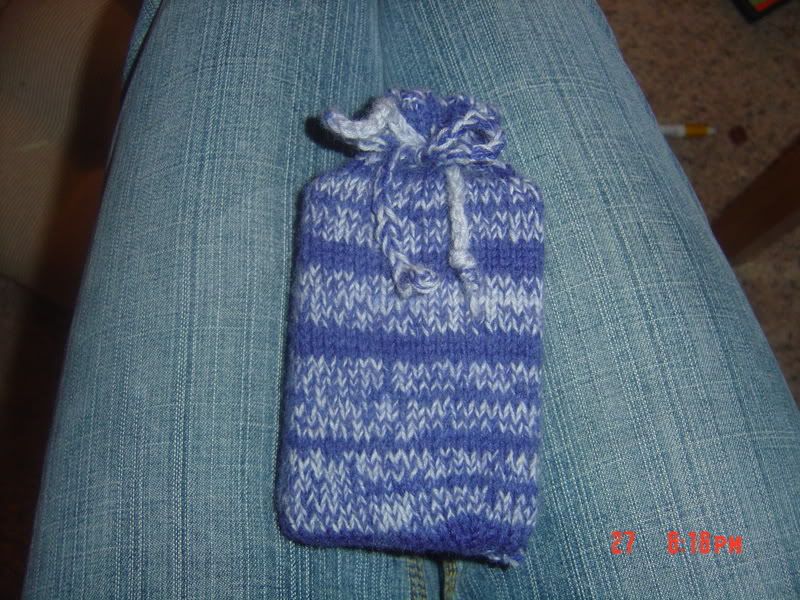 STATS:
Pattern is
here
at Hippy Mama Knits (scroll down).
Yarn is Cascade Stripes sock yarn doubled.
Total knit time: one evening.
The husband seems to like it although he wasn't overly joyous. :) He did get it early though so that could have put a damper on it all.
Part of my slowed down knitting was due to the fact that I got my replacement spindle. I quickly spun up a 2 ply and that seemed to consume me. I even tea dyed one of the singles so not only did I whip up a new yarn pretty quick I have color in there! I was going to do a scarf but I only have 2 ounces and thats not nearly enough. I do have some of the tea dyed single left (oddly enough...I had split the roving in the middle...) and I plan on using that for trim but even with that. Not enough for a scarf. I think I may do a hat. I do have pictures but true to it's nature Blogger isn't letting me post them right now so it will come later on.
I still need to finsih the doll for my neice. I cast on for my MIL's socks using the Peaks andValleys pattern from Knit Socks! and I have started a pair of longies for my family in need. Ugh. Sigh. I have a feeling I won't get around to "me" knitting until Feb.