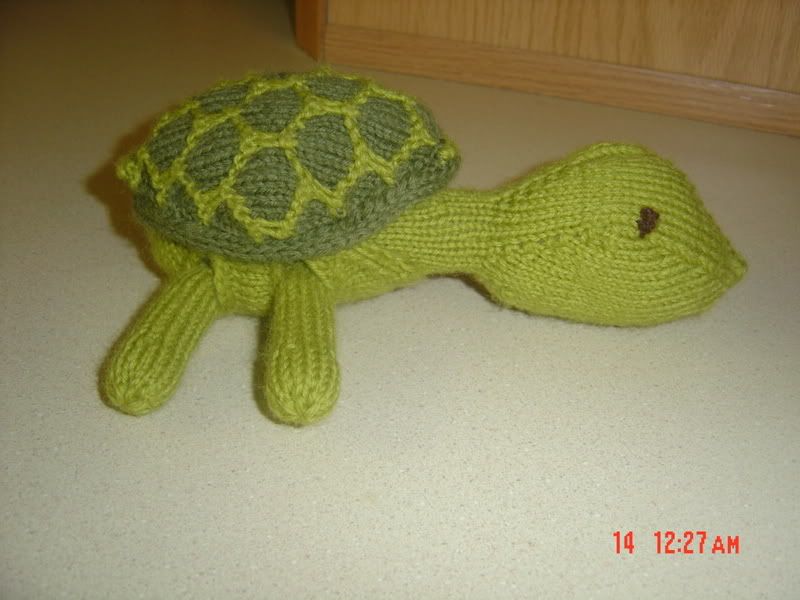 I finished up Sheldon (from Knitty) last night for my nephew! I'm surprised at how easy it was. I know basic crochet so the single crochet was easy. I did end up taking out the second row of crochet though. I tseemed like too much and being un-used to it my links were really tight and pulled the attachment panel in too much. It is prettier to have the two rounds but functionality over rules. I love the attached i cord!!! I usually avoid i cord since I have a hard time making a pretty one but this was really nice and easy. The pattern calls for you to bind off and then sew the end piece down. I thought it looked freaking ugly so instead when I got to the beginning piece I picked up two stitches in that and continued the i cord. When I bound off I tied the yarn UNDER the i cord and when I weaved it in I pulled it up under the icord and through the top (so the needle came out the top of the icord/shell area) and the result is a seamless spot! Well almost. I can see where it ends but I chalk it up to being that I was the knitter so I can see the disruption in the flow of the knitting. My nephew won't notice I'm sure. :) The patern pictures never really show his nose so when it came time to do the finsihing there I opted for a kitchener stitch. I like it although the pictures make it look more pointy than it really is. The head is slightly under stuffed. When you stuff for the second time (it's done in two parts) your opening is insanely small! I used a pencil to push the stuffing through and even that was slightly on the large side. The shell top seemed to be over stuffed at first copnsidering they tell you to stuff lightly so his body can fit but now that he is in and everything is said and done I think it's fine.
STATS:
Sheldon the Turtle pattern from Knitty
Size 3 and 4 needles
Knit Picks Wool of the Andes wool
Wool stuffing
Total knitting time:
about two days worth spread out over three days due to insanity at the homestead.