I think my knitting speed has been amped up tenfold! I have been cranking out stuff left and right.
First up is the triplet wraps. Knit on size 6 straights using a free pattern. I frogged back on the orange one and added length to it since it was short. I'm worried it won't fit right since the front is technically neworn....we shall see. I blocked them correctly for the first time and it kind of flattened them out. It bugs me but I don't think it'll affect function. I hope not. They are just waoiting for some velcro and then off they go!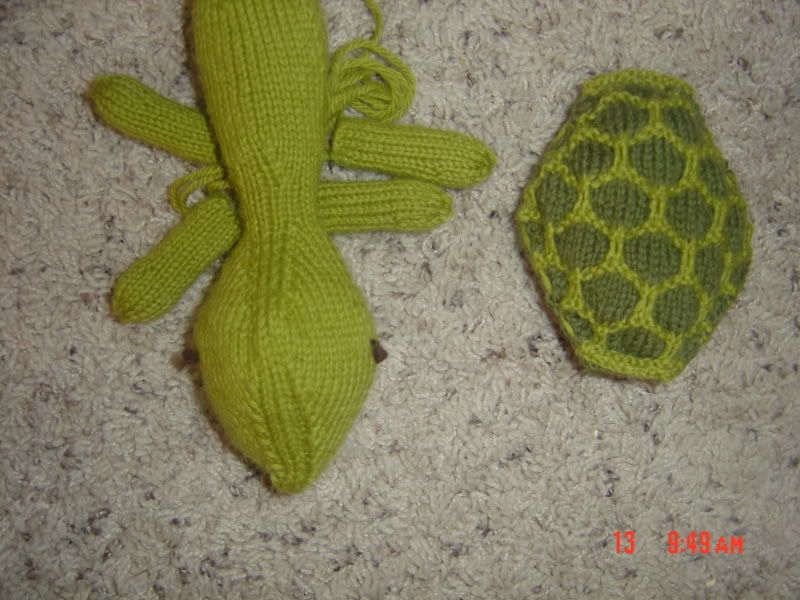 This is Sheldon from Knitty. I'm making him for my nephew for Christmas. He's almost done!! This is such a fun and quick knit! I have one last piece that needs knitted and then its on to finishing. My sister originally had wanted me to make him a monkey but changed her mind with some persuasion. ;) I'm glad. I'm really liking this pattern. The shell cmoes off his body too!
I need to finish my neices doll and clothes and then my MIN stuff. I'm actually doing this all a lot faster than I thought I would. I did go from three MIN's to one. I felt a need to focus on just this one and so I am. The family will be getting a lot of knitted goods. I'll work on her things last. She is out of town and won't be back until the beginning of the year. That works great for me since it'll give me time to get her a good box set up.
I started on a sock for my mother in law and despite my hate of it right now I think it'll turn out nicely. I originally was going to knit it up for Christmas but her birthday is in January and I thought to minimize my stress I could just do it for then. I think that will be a better idea. The color of the yarn is what gets to me. It's pooling oddly. One side is a nice even color change and another does step like switching and then another side side does stripes! I don't want to frog and recast on but if it doesn't change I think I will go nuts!
Ok, off to finish Sheldon.