Ok after much fighting with Blogger tonight I have decided I will need to do this as a series of posts. I finally have pictures for you!!! There are a couple things missing but not a lot. One is hte bag I made my sister. It was the project I did in Freedom Wool (greens and purples). Just a basketweake rectangle, folded in half, and sewn up the sides. Nothing fancy. The other missing thing is the washclothes I made my sister in law. They were done in green and white cotton (their preferred colors). One was all garter stitch, one was stockinette with a border of garter, and one was thick "ribbing". Basically it was 13 knit, 13 purl, and 13 knit. They turned out lovely and I have enough left over to make her one more. Ok...I'm going to give this another try!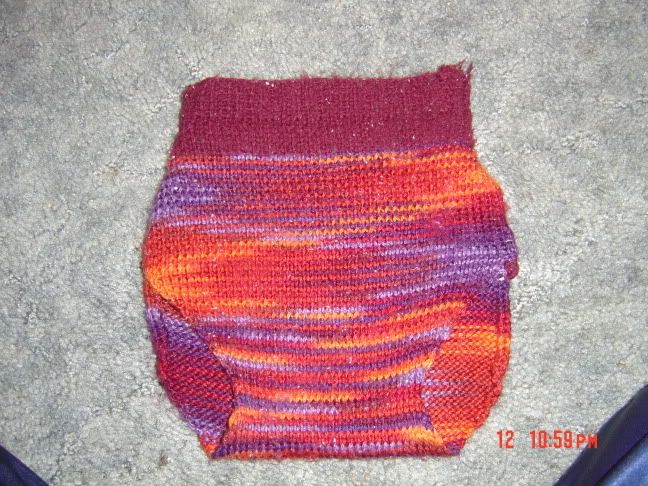 This was my first ever soaker. It's Tiny Bird's free pattern. I did it in some acrylic I had bought in December (well the yarn for the body was in December). I LOVE this yarn. Well more like the color. It's Red Heart T.L.C. and is surprisngly soft for acrylic. I never got around to adding the ruffles though. 1.) I was to afraid to learn how to pick up stitches and THEN figure out a ruffle and 2.) I don't crochet. I know someone who does but frankly she's a hag and I didn't want to ask her. :) It was my first real seaming project. I just sewed up and down the sides. I wish I had figured out a better way cause it ain't pretty. I tucked some strays so you can't see in the picture but trust me. I think I would have fit better had I taken the time to do it right. I have some of the body yarn left over and even though I have decided acrylic soakers aren't for us I am tempted to use it up as a pair of shorts.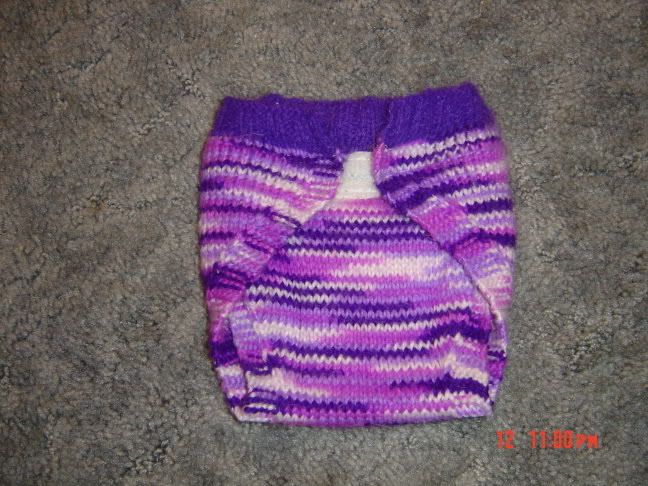 This was my secnod cover. This was the free Warm Heart Woolies wrap pattern. I LOVE this pattern! It fits my munchkin perfectly! I would make the tabs longer but other than that I have no complaints with it. Again, nasty acrylic. This was some NASTY acyrlic too. My first soaker I thought everyone was just being hoighty toighty when they trashed acrylic but this made me a believer. It was squeaky and rough and just plain out icky! It made me decide not to continue using up my acrylic (remeber I was using it to justify using the good stuff in the end?). It was a dissapointment for sure. I really liked this color combo and had plans. I even had various combos picked out and laid aside. *sigh* I do plan on making more of this wrap though.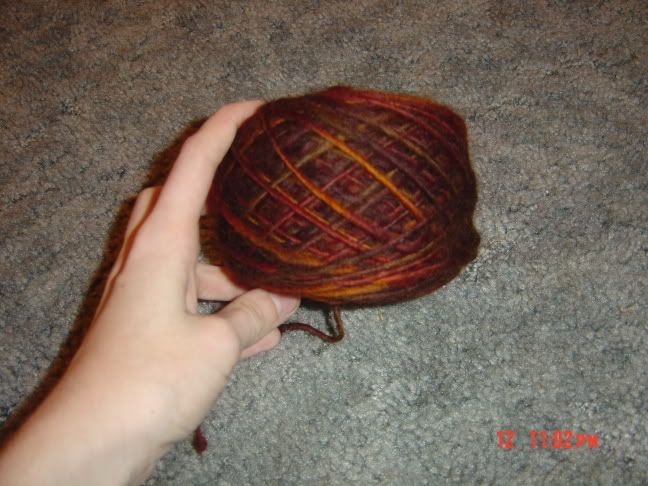 Now this! Now this stuff....oh my heavens!!!! This was my first official "cool" buy in the wool department. Manos color 104. Also known as Prarie. I LOVED this stuff. I bought two skeins thinking I was going to need them both for my Picky Pants. Didn't turn out that way and I'm happy about that. :) This quickly became......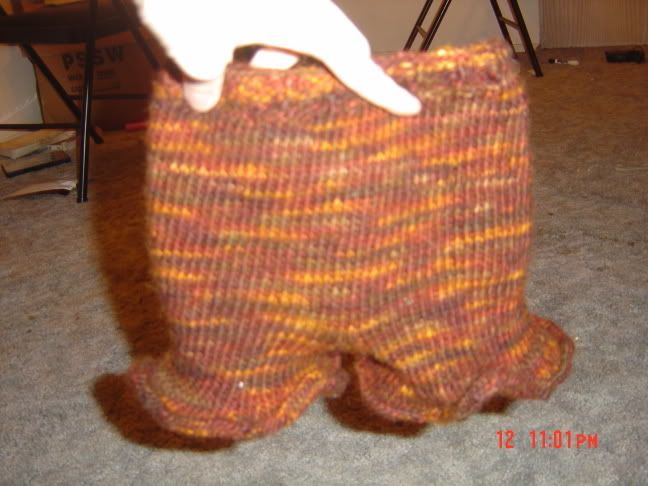 this. :) The picture DOES NOT do it justice (and it changes the color quite a bit huh?). I did a ruffle edge that is a need-to-be-seen-in-person-on-a-person type edge. :) I lvoe these shorts. I did shorten the legs a bit though. The chitlin was mainly crawling when I did these and was only walking a little bit. I made them shorter so that crawling would remain easy. Her knees tend to catch her cloths/covers and it's awkward. Not a week after I finished them she started walking full time. Yay! :) They are missing the drawstring but only cause I haven't made one yet. I was unsure about doing one since they sit low on her. After a few washes and wearings they have stretched a bit but not as much as I had hoped. I think next time I'll make the waist a bit longer and maybe add a round or two to the body. I'm pretty proud of them none the less.
On to part two!